Discover Our Quality
Fully insured company offering a wide array of services
A countless number of industries today have to lift and move heavy fixtures and pieces of machinery. For each, the challenge is to do this safely, quickly, and efficiently. In a modern industrial space, these solutions consist not only of the hoists, cranes, boom trucks, and any number of machines designed and rated for lifting, but also the qualified personnel needed to operate them.
OFFERING
Picker Trucks
Our picker trucks have been designed in a variety of configurations for maximum versatility.  Rear mount knuckle boom cranes from 3-30Ton capacities for tight locations or more typical mid mount cranes from 3-20Ton capacities including tractor trailer units.  You can rest assured that we have the equipment to suit your needs. Our expert staff is here to help you in determining the correct configuration, size and capacity rating you will require for your specific job. We can offer many value added benefits to assist you in completing your job quickly and cost effectively. Don't hesitate to ask, we are here to assist you in solving your problems. 
Additional equipment available for our pickers includes:
Engineered and certified Reverse Jibs with capacities up 16,000 lbs. for "in-building" work
Certified conventional & engine specific spreader bars for many Caterpillar and Waukesha engines
1 and 2 person aerial work platforms and hanging man-baskets
Portable welding skids and tool skids
Contact Us
VIEW OUR
COLLECTION OF
TRUCKS
Our maintenance, fitting and portable welding fleet consists of numerous units ranging in size from 1 ton flat decks with or without pickers up to 2 ton trucks with Palfinger 3 Ton Knuckle boom pickers. We also offer several 8 and 9 ton units with a complete compliment of hand tools.
Capable pickers with several configurations available
Sizable decks and pickers ranging from light duty "corner mount" pickers up to Palfinger PK8501 3-ton cranes and beyond
Our maintenance and fitting trucks come with a full complements of tools on-board to tackle any situation
Want to work with us? -
Contact Roil Today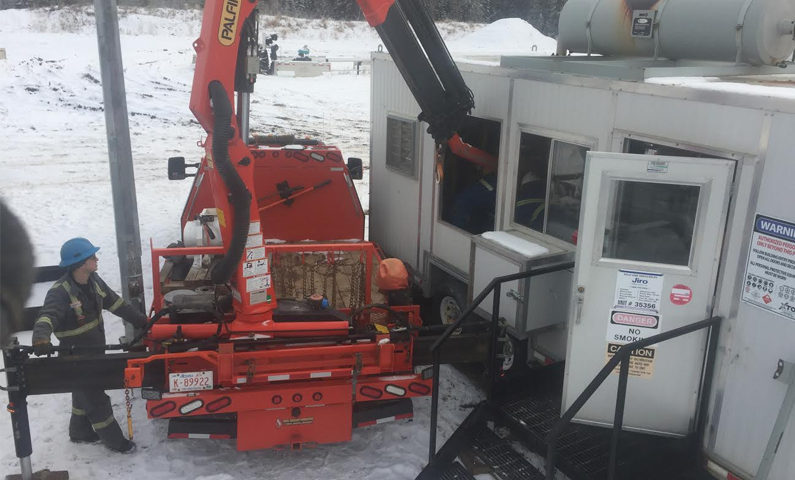 "Road Runner" is a unit we built when our typical loads were not overly large but the benefits of a rear-mount picker with an Inverted (reverse) jib on a smaller, lighter truck were advantageous.
Agile enough to maneuver through smaller bay doors

light enough to run during road bans

Equipped with a Palfinger PK8501 3 ton knuckle picker

A maximum payload of over 5100 lbs on a 8'X8' deck and trailer towing capability

Lift capacity of 3,880 lbs @ 13' and 704 lbs @ 45'

Inverted jib rated for up to 1,500 lbs for 'in-building' lifting

This unit is rapidly becoming one of our most popular "Light" picker trucks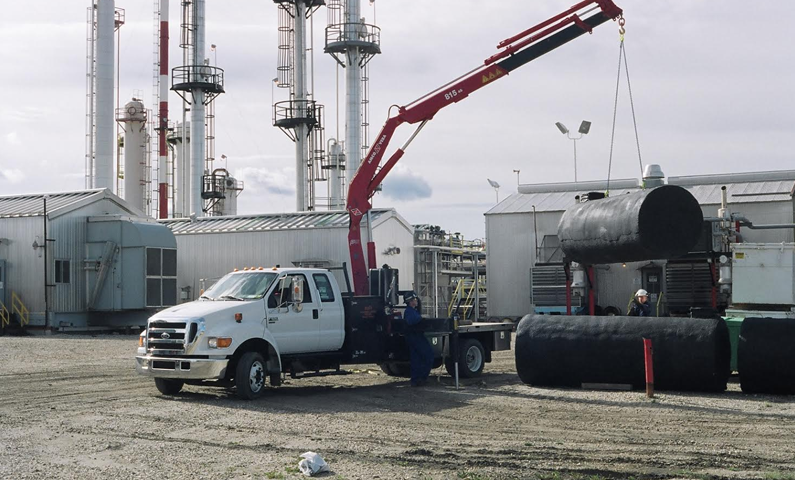 "Casper" is the first picker truck we rigged out. Originally put together as a large tool/picker truck it features a mid-mount 8 ton Amco/Veba knuckle boom crane.
6,000 lbs maximum lift capacity @ 15' and 1,950 lbs @ 40'

Equipped with an inverted (reverse) Jib to allow 'in-building' lifting of loads up to 3,000 lbs

10' long deck with maximum payload of 9,200 lbs

Trailer towing capability

A great choice for any jobsite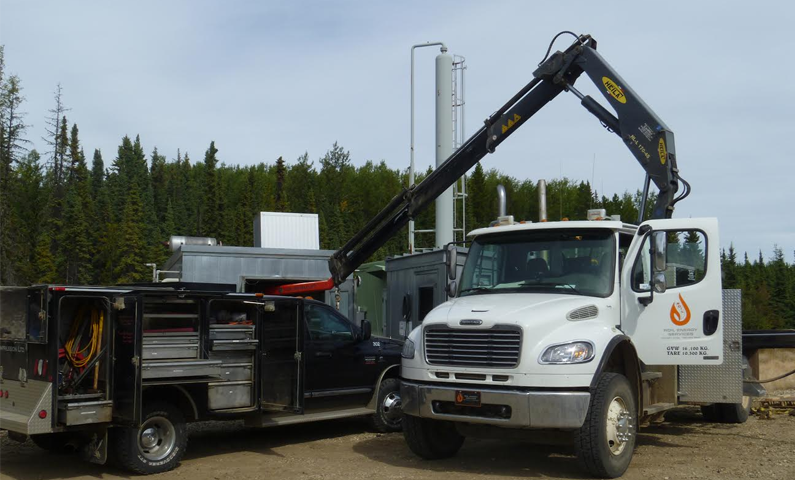 "Freddy" is one of our shortest trucks adding to its versatility and allowing it to be extremely maneuverable around site. Freddy is a 2007 M2 Freightliner and is equipped with a 7' long deck with a healthy max payload of 12,786 lbs. and trailer towing ability.
Features a mid-mounted eight-ton Heila HL-L 170-4S knuckle-boom crane

Maximum lifting capacity is 4,695 lbs @ 22' and 2,000 lbs @ 43'

Maximum reach of 50' with "dead" section extended

Freddy also comes equipped with an inverted (reverse) jib with a wireless radio remote making it ideal for "in-building" lifting up to 3,000 lbs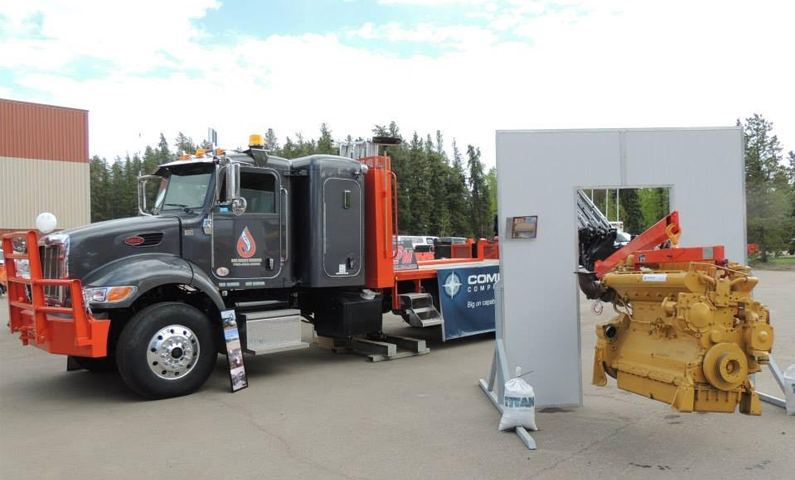 "Gizmo" is a truck that we built by popular demand for customers who wanted the capacities offered by our other 8 Ton units, but required the added benefit of a rear-mounted picker, which has become the most popular configuration for "in building" lifts.
A 2013 Model 348 single axle Peterbilt platform

Equipped with a radio remote controlled Palfinger PK18002EH nine-ton knuckle boom capacities are 8,200 lbs @ 13' and 1,900 lbs @ 48'

Equipped with a 13' deck and a payload of 10,560 lbs, including trailer towing capability

Comes with an inverted (reverse) jib rated at 3,500 lbs for "in-building" applications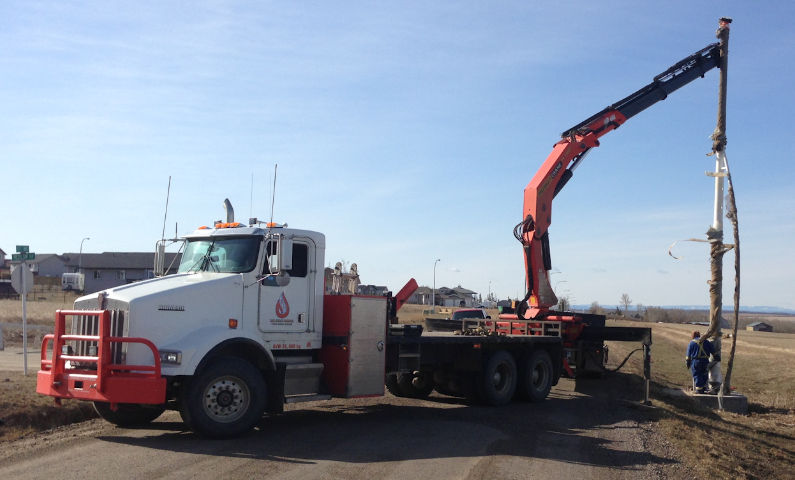 A 2000 T800 Kenworth tandem axle unit with a rear-mounted Palfinger PK32080C 16 ton knuckle-boom crane, "Kenny" has helped us deliver for countless clients. This truck has the strength to haul some of the heaviest stuff we pull.
Equipped with a radio remote controlled 16 ton knuckle boom capacity's are 10,000lbs. @20' and 4980lbs. @39'

Comes with an inverted (reverse) jib rated for 9000lbs, as well as an optional Hydraulic fly jib for additional reach and versatility

17' long flat deck with a maximum payload of 26,455 lbs

Still highly maneuverable compared to most trucks of its performance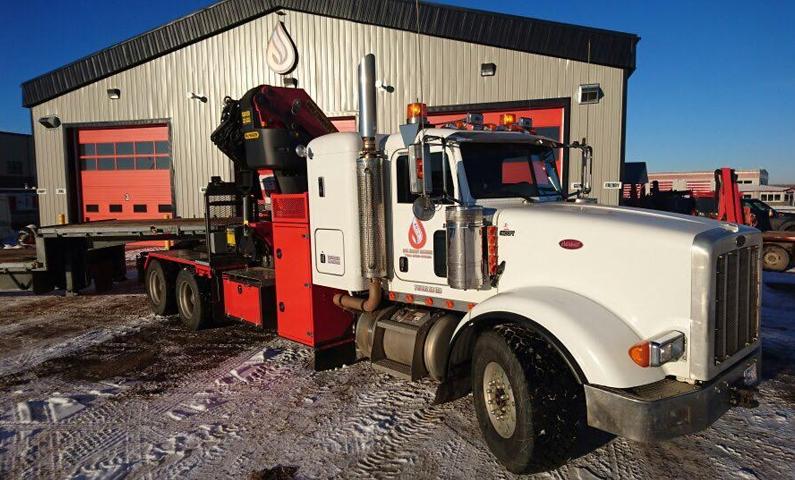 "Snoopy" is our latest addition to the light hauler / picker fleet a Peterbilt 367 tandem axle tractor trailer unit. This unit was constructed with our clients larger loads in mind, coupled with our new Manac 48′-67′ trombone trailer larger and longer loads are no problem!
Able to load or unload itself with a mid-mounted Palfinger PK40002EH 20ton knuckle-boom crane on board

Features include continuous rotation system, wireless radio remote controls, Power link system allowing 15 degree negative angle

12,000 lb capacity reverse jib

Capacities for this unit are 17,700 lbs @ 14' and 3,950 lbs at 53'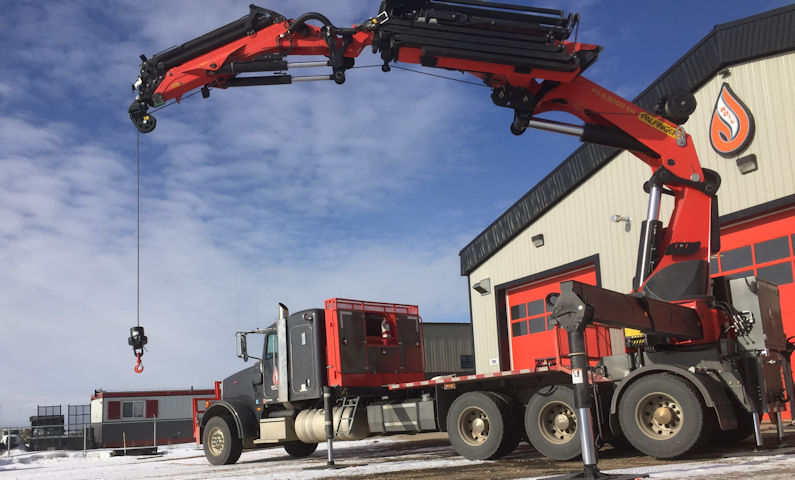 "Spike", one of our newest units, is primarily constructed for heavy "in-building" work with its inverted (reverse) jib rated for up to 16,000 lbs. This truck is equipped with a "power link" system that allows for 15 degrees of negative angle on the outer boom. And when fitted with a hydraulic fly jib, an additional 25 degrees of negative angle can be achieved, making Spike ideal for reaching through doorways, under pipe racks, or even through windows. Also included is a winch system on both the main boom and fly jib to allow hoisting capabilities as per stiff boom trucks.
Can fulfill any and all general picker truck roles

A 2013 Model 367 Tri-Drive Peterbilt platform

State of the art, rear-mounted Palfinger PK63002EH thirty-ton knuckle picker

Features including continuous slewing (rotation) system, wireless radio remote controls

Power Link cable winch system (to allow us to operate like a stiff boom or hoist if required)

16,000lb capacity inverted (reverse) jib for the heaviest of "In-building" lifts

Removable Hydraulic fly jib allowing tip heights of 90' +

Capacities of 28,820 lbs. @ 13' and 6,490 lbs. @ 51' with fly jib installed 2,332 lbs. @ 81' fully horizontal!
OFFERING
HOTSHOT AND LIGHT HAULING
Our fleet of trucks can meet a wide range of demands, but some are ideally suited to light hauling needs. From our versatile 1 and 2 Ton deck trucks and light picker units to our larger tractor trailer units. We have the trucks and trailers as well as many specialty hauling products to help you get your products moved safely and on time!  
Contact Us
ROIL-

SERVICE AREAS

As shown in the map below, our service areas extend a good distance from the Grand Prairie area encompassing most of Alberta, the eastern bulk of British Columbia, and northwest Saskatchewan. If you aren't sure if we can get you, please contact us and we will get back to you quickly with an answer.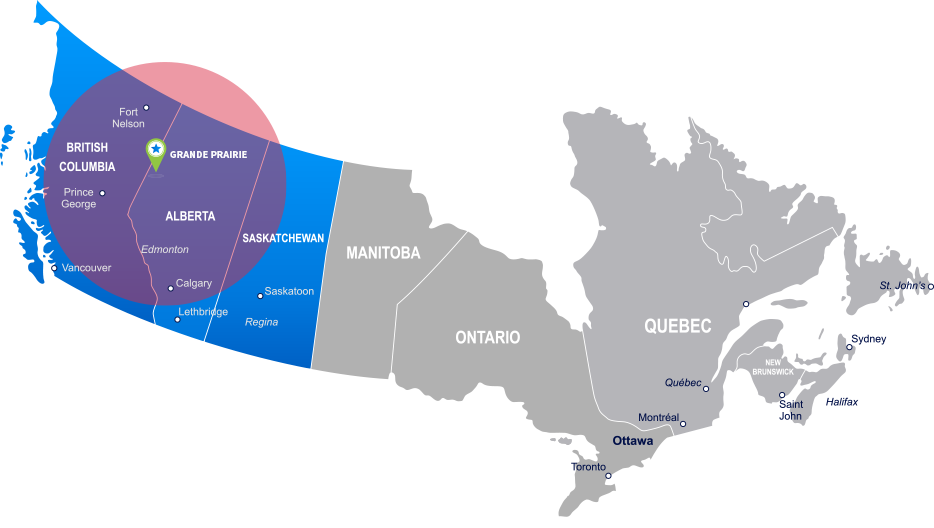 Looking for something else? Check out the other services Roil Offer
SEE WHAT
We Have Been Working On