Discover Our Quality
Fully Insured company offering a wide array of services
Roil Energy Services originally started life as Steve Rutherford welding. It was Steve's integrity, reliability, and commitment to his craft  – in combination with his expertise as a craftsman and innovator with over 40 years' experience in the welding and fabrication industry – that allowed him to excel. We haven't forgotten our roots as a Welding company that is based on continuous innovation, intelligent designs and attention to detail that sets our work apart.
FOR ALL YOUR
Welding Solutions
Our portable welding service vehicles are each one ton 4X4 trucks equipped with custom flat decks for welding and Lincoln welding machines for projects big or small. Our crews' attention to detail and safety protocol allows us work safely on some of the most potentially hazardous sites in the industry. From our comprehensive safety program (including continuous monitoring for potentially dangerous atmospheres) to our highly-trained and safety-conscious operators you can be assured that we will get the job done right the first time – and with minimal risk.
CONTACT US
CUSTOM
Fabrication
Roil Energy has evolved to include a fully-equipped 2,000 square foot welding shop dedicated to all types of fabrication projects. Two five-ton overhead cranes with ARC, MIG, and TIG welding equipment allows us to work on multiple projects simultaneously.
Our shop also features a 10" horizontal band saw with 30' feed, a 48" box and pan break, a lathe, and a 30 ton press. We are fully equipped to manufacture or repair catwalks, drip trays, belt guards, pipe brackets, stands, load boxes, and just about anything else you can think of.
CONTACT US
ROIL -

SERVICE AREAS

As shown in the map below, our service areas extend a good distance from the Grand Prairie area encompassing most of Alberta, the eastern bulk of British Columbia, and northwest Saskatchewan. If you aren't sure if we can get you, please contact us and we will get back to you quickly with an answer.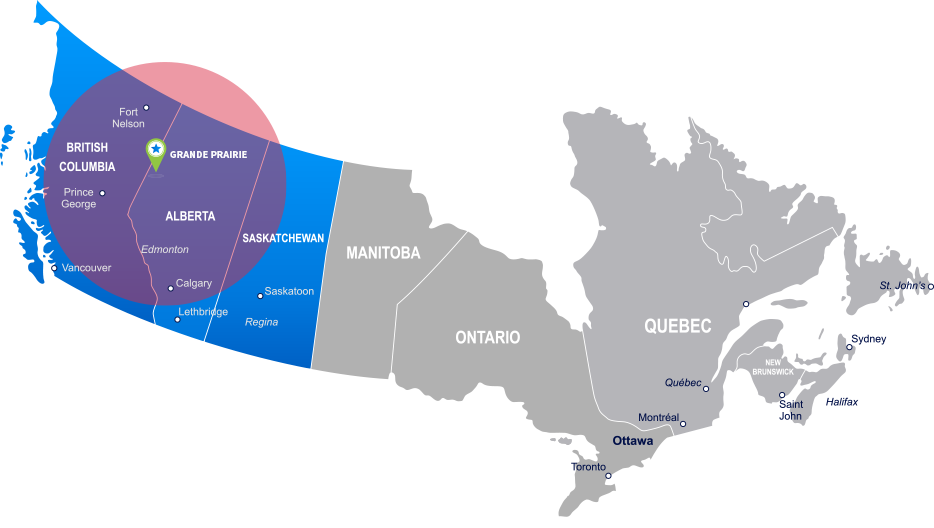 Looking for something else? Check out the other services Roil Offer
SEE WHAT
- We Have Been Working On