ROIL

A career not just a job
Roil Energy's vision for the future is one of growth – not only for the company, but for each and every team member involved. We only add staff that want to be part of a strong and growing team, and are ready to embrace our core values of integrity, honesty, and reliability.
The future is bright at Roil Energy, with the addition of several new picker trucks to our fleet. Along with the addition of our Modular Services division, Crane Services and Maintenance we will be expanding to deliver more services and handle larger jobs. We will never forget what got us here – hard work, safety protocols, quality equipment, and excellent team members that understand how to work together to get the job done.
Come get a career and not just a job. We enjoy what we do and doing it. We want everyone to feel the same when they work here.
ROIL

-SERVICE AREAS

As shown in the map below, our service areas extend a good distance from the Grand Prairie area encompassing most of Alberta, the eastern bulk of British Columbia, and northwest Saskatchewan. If you aren't sure if we can get you, please contact us and we will get back to you quickly with an answer.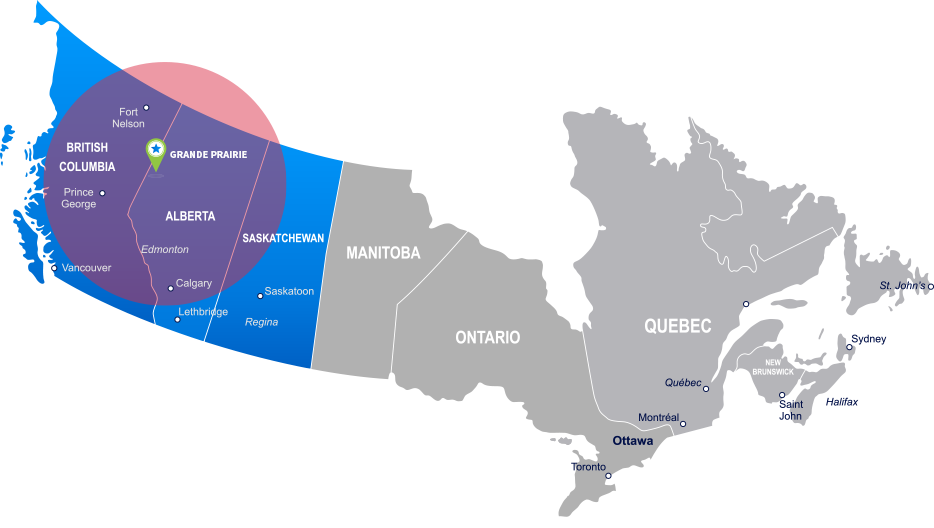 Looking for something else? Check out the other services Roil Offer
SEE WHAT
- We Have Been Working On